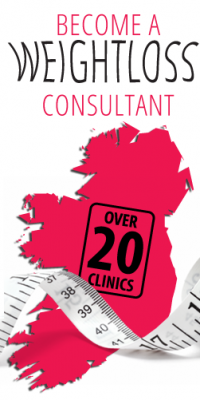 Are you interested in fitness, health, weightloss and motivating others?
The System10 Agency Network is bursting with inspiring individuals who strive to both motivate others and promote a business which can be extremely lucrative! Does this sound like your dream career?
EARN AN INCOME OF €50,000+ p.a. & Be Your Own Boss!
At System10 we support our agents to grow and promote their clinics nationwide. With over 25 clinics in Ireland and many years of experience, we have helped thousands of people loose weight and feel amazing. As obesity figures continue to grow, it is fundamental in our society that clinics are available to help people combat weightloss.
If you are interested in becoming a weightloss consultant and setting up your own business, talk to us today. Offering Full-Time and Part-time options to suit your lifestyle. We will interview you and discuss your ability to grow the System10 network in Ireland.
"I love what I do each day. I help people to lose weight, transform their lives, feel sexy and beautiful!"…Linda, Waterford.
BECOME A WEIGHTLOSS CONSULTANT
We are now taking enquiries for new clinic startup's. Full-time & Part-time options available.
CALL 1890 510 610 to talk to Graham OR EMAIL US