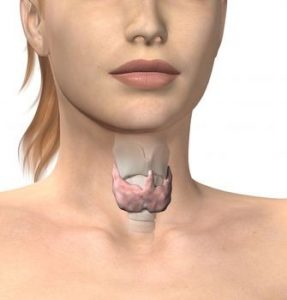 Nothing can affect your energy, health and weight loss like low thyroid function. It drastically limits your get up and go and ages you well beyond your years. It can mean you are operating at 66% or 50% of your normal power – mentally and physically!
For those losing weight it can make it almost impossible because you burn 400 or 500 calories less than normal per day. Indeed it can limit or stop your weight loss no matter how much dieting or exercise you do. And the under-eating of poor diets makes the situation drastically worse.
Thyroid hormones affect the output of virtually every cell in the body from head to toe. Low thyroid can be at the root cause of depression. It can slow your digestion and cause constipation. It affects energy production, fertility and sex drive. It of course causes weight gain. It stresses the body and can greatly contribute to stomach fat. In our hurried and stressed lifestyle the thyroid is one of the most beaten up glands of all!
Unfortunately current blood testing helps very little. The hormones typically tested (TSH and T4) do not give enough information. We should at the very least be testing the T3 hormone too! The ranges of 'normality' are also too wide and allow a lot of people go undiagnosed. Many people who pass blood tests still have multiple signs of low thyroid function including – very low energy, constant fatigue, poor blood circulation, feeling unnaturally cold, slow bowel function, poor skin and hair loss.
There are a huge number of people out there feeling very unwell with 'subclinical' thyroid i.e. not medically diagnosed. Certainly aging, pregnancy, poor lifestyle habits (smoking, excess sugar and alcohol), illness and over medication lower thyroid function and stress seriously lowers it.
So important is your thyroid that everyone can do with giving it a little bit of help and tlc! For some people this will transform their whole existence. Through good food, great nutrition and precise exercise we work on building everyone's thyroid up naturally. We want to restore it back to as close to its best function as possible. The results are truly amazing not just in how you feel mentally and physically but how you look and the amazing weight and shape you can get back to.
As always I hope you get something useful from this article and please share it with others. Someone making one simple change can lead to big improvements. If you have any questions on the above conditions or another condition please email me at david@system10.ie and I will reply.
Thank you
David McDonagh (Nutritionist, fitness trainer & creator of System 10 Weight Loss)
My system is about real weight loss done the right way! My plan takes into account all the above reasons and more and makes sure weight loss will work for you. Don't miss my NEW online plan starting soon where you can lose 10+ lbs in 4 weeks or 20+ Ibs in 8 weeks and get an amazing change in shape because it is real weight loss. Click here for more details on these options. Alternatively arrange a one to one consultation in your nearest clinic by clicking here.
You can find more articles here on health, fitness and weight loss.